START-UP @ STATE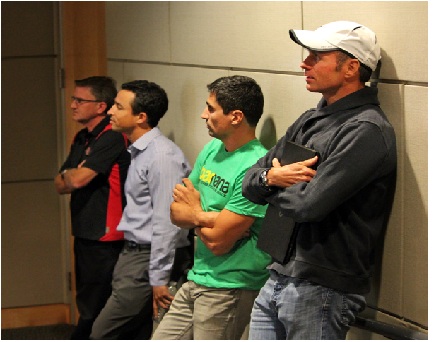 Mike Alfred from Bright Scope, Caue Suplicy from Barnana, and Mitch Thrower from Bump
San Diego has created a sustainable ecosystem that fuels entrepreneurship within the region, making San Diego a hub for entrepreneurship. Entrepreneurs throughout San Diego have developed networks that provide the necessary resources enabling start-ups to grow and thrive. San Diego has been a center for innovation in several industries including wireless, bio-tech, actions sports, etc. The strength of this ecosystem relies on the continuation of innovation and the development of deeper networks within the community. The Lavin Entrepreneurship Center is supporting this ecosystem by developing opportunities to connect students with local start-ups by bringing them to campus through the Start-up @ State event.
Last semester, the Lavin Entrepreneurship Center, Start-up Circle and the Entrepreneurship Society hosted the first annual Start-up @ State event. Four founders which included, Mitch Thrower from Bump, Caue Suplicy from Barnana, Blaise Barrelet from Anametrix and Mike Alfred from Bright Scope, spoke on behalf of their new start-ups. The panel was designed in a question-answer format allowing students a unique opportunity to directly interact with the founders. With more than 150 students attending, the event was a huge success.
---
---
Competition makes you stronger. If our top competitor didn't exist, we would have to make them up.

~ Jim Sinegal, SDSU'59
Founder
Costco
Student: Want a challenging internship? Employer: want a great SDSU graduate intern?