Lavin Entrepreneur Program Applications Open Today!
Take your college experience to the next level with mentoring from entrepreneurs, site visits to start-up companies, relationship building with industry experts & EMC staff, all to support you in starting your own company someday! The prestigious Lavin Entrepreneur Program is seeking entrepreneurial oriented student leaders from all seven colleges to enter the program and begin their best two years at SDSU. Applicants must be entering their junior year in Fall 2012 and participate in the two-year program throughout their junior and senior years. Begin living an entrepreneurial life and apply online today.
---
Win $500 at VentureStart, Prepare at the Final Presentation Workshop
Could your big idea become one of tomorrow's leading companies? Apply to the Lavin VentureStart Competition and you could present your business in front of a panel of expert judges for the chance to win $500. Business plans are due this Friday, April 13, by midnight. Get ready for the competition at our final VentureStart workshop on "Giving a Powerful Presentation" with Allison Heinrich and Matt Reilly of eBoost Consulting, held April 16 at 5:00pm in EBA 437. Submit your business plan online.
---
Stronger Job Market for College Graduates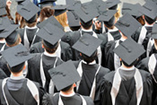 There's good news for students graduating this May - job prospects are looking up! According to a survey by the National Association of Colleges and Employers (NACE), companies are planning to hire 10.2% more recent graduates than in 2011. Read More.
---
Alumni Spotlight
Jeffrey Grad, SDSU '80
Jeffrey Grad, SDSU '80 is a co-founder of Evolution Fresh, a line of fresh and all-natural juices and protein shakes based in San Bernardino. After graduating from the SDSU College of Business Administration with a bachelor's degree in finance in 1980, Grad co-founded the premium juice brand Naked Juice with Jimmy Rosenberg. The two partners sold Naked Juice in 1991 and teamed up again to launch Evolution Fresh in 1996. In addition to juices and shakes, Evolution Fresh sells lines of fresh-cut fruits and vegetables, soups, salsas, and dips with a dedication to using fresh ingredients and avoiding artificial preservatives. In November 2011, Grad and Rosenberg sold the company to Starbucks Coffee Company. Starbucks recently opened the first Evolution Fresh store in Bellevue, Washington, as a premium juice and food experience offering customers fresh, made-to-order juices as well as lunch items including wraps, salads, soups, and more. Grad has remained involved with his alma mater and has served as a judge at Venture Challenge, SDSU's premier international business plan competition.
www.evolutionfresh.com